Today, I have been in the kitchen trying to create my very own holiday cookie. I wanted to honor my home state of Ohio. In Ohio at Christmas time the most popular cookie is the Buckeye. Most people from out of Ohio have not heard of this spectacular cookie!
Let me tell you a few positives about the Buckeye and this recipe:
1. It is only a few ingredients that I can almost guarantee you have in your pantry!
2. No baking!!
3. Very Simple. (Kids can even help! They love being a helper!)
4. It is the most amazing time of year and is a great gift!
Why did I choose the Buckeye? It is my most memorable holiday cookie. All throughout my childhood I remember my mother and my aunts getting together to make holiday cookies! This was the one we could not wait to gobble up. The normal Buckeye includes peanut butter rolled in a ball and dipped into chocolate. They look like a buckeye. I wanted this to be a little more special! I created this cookie for
In Jennie's Kitchen
and the 12 Days of Cookies! I want to support Childhood Hunger in anyway I can....
I am submitting this recipe to another amazing site:
Tongue-n-Cheeky!

She has an incredible cookie bake off. I love this site and the wonderful recipes she shares. Check it out. Vote for me too!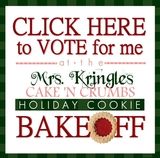 Make sure you stop by her site and see the wonderful cookies!
MY First Christmas Cookie Recipe NUTELLA BUCKEYE SUPRISE:
3/4 cp. peanut butter
3/4 cp. nutella
1 Stick of butter, melted
4 cps. powdered sugar
6 oz. Chocolate
2 TB Shortening
Hershey Kisses
( I used a variety. The pic is Caramel Hershey Kiss.)This is optional I put them is some, but not all. I also used white chocolate to cover the Buckeyes, but not only did they not look like Buckeyes. They did not taste as good.
1. In a mixer add the peanut butter, nutella, butter and powdered sugar. It will look crumbly, but when you form when you roll it.(Kinda like Meatballs.)If you are using Hershey Kisses then roll the dough around the kiss.
2. Put in the freezer for ten minutes.
3. Use a toothpick and put it in each buckeye then roll it in the melted chocolate. (I usually just add the chocolate and shortening to the Microwave for 30 seconds then stir.)
4. After you coat each Buckeye put them in the fridge of freezer to harden.
Beware! These are addictive!
NOW! EVERYONE go over to Tongue and Cheeky and leave a comment voting for me! It will only take a minute. Love you all. Cross your fingers for me!! :)